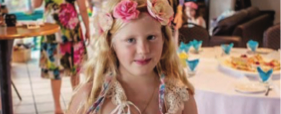 SPARKLY VINTAGE PARTY
SET MENU $24/person
Ham & cheese ribbon sandwiches, mini sausage rolls, brownies, macarons, ice cream, scones or brioche with cream & jam, hot chocolate
Experience our beautiful Vintage High Tea party setup.
We will provide sparkly vintage table setup, quiz, colouring props, hanging decorations.
---
ENCHANTING ALICE IN WONDERLAND PARTY
SET MENU $29/person
Ham & cheese ribbon sandwiches, mini sausage rolls, Alice themed brownies, Alice themed macaron pops, ice cream, scones or brioche with cream & jam, hot chocolate
Join Alice for a High Tea in the Rabbit hole.
We will provide Alice themed table setup, Alice's quiz and coloring props, hanging decorations.
---
NOTE:
All party decorations and props are HIRE ONLY!
_________________________________________________________________
HIGH TEA AVAILABLE TUE-SUN from 11am
Minimum of 4 kids required
(we can decorate "Alice" for even one child, extra decorating cost applies)
Large groups from 1pm
Booking Essential
0458 398 560
To find out more send us an e-mail