Something little for everyone' s sweet tooth.
Let us surprise your guests with a collection of divine flavours, colours and sizes.
We make macarons, meringues, tarts, cheesecakes, chocolate cakes and many more.
Most of bellow products we can prepare for your pickup within 24 hours.
Please, note that these are "Patisserie" style of desserts and need to be refrigerated before serving. If you look for cakes, which can be displayed without refrigeration, visit our DESSERT STATIONS.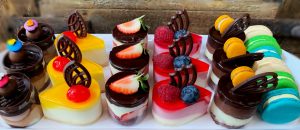 FLAVOURS
Mini Dessert
$
Regular
Dessert
$
GF
Strawberry-pineapple torte
4.50
7.50
 –
Chocolate-strawberry torte
4.50
7.50
 –
Bourbon Black Forest
4.50
7.50
 –
Chocolate mousse cake
4.50
7.50
 –
Chocolate-raspberry mousse cake
4.50
7.50
 –
Hummingbird cake
4.50
6.50
 –
Choco-banana cake
4.50
6.50
 –
Mango-macadamia cheesecake
4.50
7.50
 –
Mocha cake
4.50
6.50
 GF
Lemon tart
3.50
6.50
GF
Chocolate brownie
3.50
5.50
GF
Caramel tart
3.50
6.50
GF
Bounty coconut tart
4.50
7.50
GF
Vegan
Macaron (almond shell)
2
–
GF
Meringue (coconut shell)
2
–
GF
Extra:
Acrylic 3-tier stand hire
White ceramic stands hire
To find out more send us an e-mail